Jersey Shore
"We want people to fall in love with fall at the Shore."
They aim to revitalize the city's family-resort roots via the Orange Loop, a district of restaurants and bars, upscale residential units and more.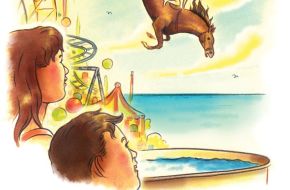 Daredevil rides, a diving horse and three divine divas created an indelible impression.
Most Recent in Jersey Shore
To support worthy causes, some people write a check, others do volunteer work…and still other intrepid souls jump into the Atlantic Ocean in the dead of winter....
Read More »
If you're a longtime Loch Arbor surfer, you're most likely cringing at the thought of us giving up your secret, but bro, the spot rocks....
Read More »
A band of locals fed up with the crass, contemptuous brand of tourist they call Bennys fights for elbow room—and a little respect....
Read More »
Every June, I have flashbacks to Ortley Beach in the late 1960s, when we'd cram ten to fifteen Adubatos into a tiny bungalow for an annual two-week "vacation."...
Read More »
Only in New Jersey can there be three Shores. Last year I moderated a tourism conference about the Shore, and intense debate broke out about "which shore" I was referring to. Was it from Cape May to Atlantic City or Ocean and Monmouth counties? What about the "North Jersey shore," starting at exit 117 on the Parkway?...
Read More »
Pull into the Circus Drive-In on Route 35 in Wall Township, with its immense, grinning clown outlined in bright, buzzing neon, and you might feel you've entered a scene from American Graffiti, George Lucas's 1973 homage to 1960s teen life....
Read More »
For the record, Sister James Delores of the Villa Maria by the Sea in Stone Harbor would like it known that she doesn't surf. However, she was once a good enough athlete to be asked to join the first women's professional baseball team in Chicago....
Read More »